Hello!
How are you all? I hope you are having a nice week. I haven't done a "What's happening Wednesday" post in ages, I always feel like I should do more of them since I read a lot of interesting stuff (well I think it is interesting) and it is nice to share and give credit to the authors. But then life gets in the way.
I get the majority of my hits on Adult Acne, which is sad and logical at the same time. Because it is the sort of long term problem that people suffer through and try and try to solve for years. So I was going to do another product review because I had found something else that was working for me. But then I read more about the product. And now it has made it into "What's Happening Wednesday".
Microbeads
Microbead skin cleansers are fantastic if you have acne. They are an exfoliator with tiny beads that really help clear out the dirt and reduce breakouts and blackheads. For me they were really helping. However, they are apparently an environmental nightmare and have been quickly replaced with different exfoliating cleansers in my bathroom (which I am confident will probably be just as effective).
They are so environmentally toxic New York and California are moving to ban them, (Source). Essentially they are tiny plastic particles that end up down the drain and going into the ocean. They pollute the water, and end up in the food supply as they are ingested by fish, (Source). Ick. I am certainly boycotting them as they really are unnecessary. There are plenty of fantastic exfoliators out there, who needs one that is so damaging.
Housework
On a different note…I recently read this article on countries where men do the most housework. Slovenia ranks number one with men doing 114 minutes per day and surprisingly Australia is number 6, with men doing 93 minutes per day. Indian men came in last with 19 minutes per day.  I don't know how thorough the study was or how it was conducted, but as an Aussie I am genuinely surprised that Australia would be so high on the list. I would certainly love to see Aussie men doing more. However, I optimistically hope that Aussie men are pulling their weight to a greater extent than I realised! The older I get the more jaded I have become about gender equality, I naively thought when we studied it in depth over and over at University that it was something I could make myself immune from and it would never directly affect me. I now realise how embedded it is in our society. Obviously this is a huge discussion for a different day and no doubts many of you will have differing opinions, but I just found it interesting nonetheless.
What's Your Excuse?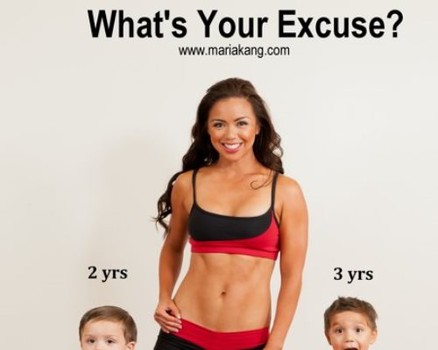 The Fitnessista posted this article about this picture on her blog. There is some interesting discussion about it on her site. Basically the girl in the picture had 3 kids in 3 years and looks great/ unbelieveable. Good for her. However, the caption is really off putting and suggests that what she has achieved is something we can all do – if we stop making excuses. Before I had kids I didn't look like that and I worked out really hard often and I was a trainer. So I had the knowledge, the skills and the time. And it was still really hard. I had no idea how insanely hard it would be to fit in training once I became a Mum. It really is near impossible at times. Awesome for this gal that she looks so great, but is it realistic or healthy to compare ourselves? I'm don't think so. I am all about promoting health and fitness, I just don't think that we need to come up with better ways to do it.
SO, on that note, have you read anything interesting recently? Have you ever heard of/ used microbeads? Do you worry about the impact of products you buy? Do you think Aussie men do their fair share of housework? Or men of your nation? What are your thoughts? How do you feel about fitspiration?
Jess xoxoxx